Antes de mais, uma estampagem para T-Shirt, exclusiva da Academia QI, em parceria com a queroTshirt: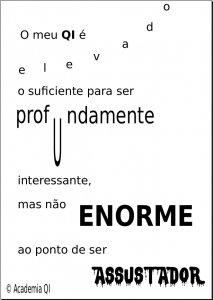 Como o Humor também é, na perspectiva da Academia QI, uma das formas mais subtis de Inteligência, aqui vai um cartoon feito pelo Fundador da Academia QI.
Oxalá o cartoon esteja errado…

As Humor is, from an Academia Qi perspective, one of the most subtle forms of Intelligence, here goes a cartoon drawn by the Academia Qi Founder.
Hope the cartoon is wrong…

Comme l'Humour est, dans la perspective de l'Academia QI, une des formes les plus subtiles d'Intelligence, voici un cartoon dessiné par le Fondateur de l'Academia QI.
En espérant qu'il ne se révèle pas vrai…